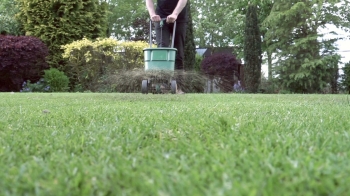 Overseeding
Overseeding of an existing lawn is a recognised essential part of annual lawn maintenance. All lawns are affected by the specific growing environment in which they exist, their level of use and general weather conditions. As a result, understanding the basic principles of overseeding and choice of seed mix will enable you to work with nature toward a greener and healthier lawn.
Overseeding your lawn will:
Help in-fill damaged or thinned areas.
Improve the lawn colour.
Reduce weed and moss invasion.
Rolawn Lawn Seed
Medallion® Premium Lawn Seed is the same mix used to grow Rolawn's renowned, award winning Medallion® turf, a blend of some of the most advanced cultivars for excellent appearance and durability. For use on the majority of gardens and perfect for overseeding an existing Medallion lawn. A highly dynamic mix, containing both fine and medium-bladed leaf, with outstanding year round colour, that will establish rapidly.
Minster® Pro Ornamental Lawn Seed is a pure fescue blend which will introduce shade and drought tolerant grasses, which have a fine bladed leaf and rich green colour. This seed mix is the same as that which we used when growing Minster Pro turf.
How to overseed your lawn
Mow the lawn to approx 25mm.
Use a spring tine rake to break up and remove the layer of dead matted grass known as thatch. Dependent on the depth of thatch on a lawn this process may require a powered scarifier, which can be hired from most hire shops.
Using a garden fork, spike the lawn to a depth of approx. 150mm at 300mm intervals.
If your lawn has not been fed in the last 4 months we recommend feeding the lawn before overseeding. The lawn can usually be overseeded 3 to 4 days after applying a general lawn fertiliser, however you should wait 4 weeks after applying a feed, weed & moss killer.
Sow the seed evenly across the lawn.
Medallion Premium Lawn Seed should be applied at a rate of 25g per square metre and Minster Pro Ornamental Lawn Seed at 28g per square metre.
Rolawn Lawn Seed can be mixed with Rolawn Lawn Topdressing and applied to the lawn jointly.
The seeded area must be kept moist, therefore, water your lawn after 2 or 3 days of sowing if no rain has fallen.
Specific bare patches can be sown without treating the whole lawn. Apply the same procedure as above, but use sowing rates as for a new lawn (Medallion Premium Lawn Seed at 35g per square metre, Minster Pro Ornamental Lawn Seed at 38g per square metre).
To protect specific areas from birds consider covering with netting or garden fleece. This should be removed when new shoots start to come through the soil.
Try to keep traffic on a freshly overseeded lawn to a minimum for 7 to 21 days
Raise mowing heights to approximately 50mm for the initial 2 or 3 cuts, then reduce down to 25mm over the next 2 or 3 cuts. Never remove more than a third of the grass blade length at any one time and on new sowings ideally never more than a quarter.
When to overseed a lawn
The ideal times to overseed an existing lawn are spring and autumn, with germination taking 7 to 21 days depending on growth conditions.