How to sow lawn seed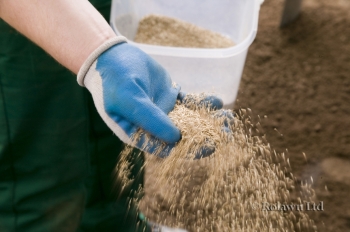 How to sow a lawn from seed
The best time of year to sow a new lawn from seed is spring or autumn, with germination taking 7 to 10 days depending on the growing conditions.
Existing lawns should be removed using a turf cutter, spade or weed killer.
Dig over the area to a depth of 150mm-220mm, ideally using a rotovator, removing all weeds and large stones.
Rolawn Turf & Lawn Seeding Topsoil provides the ideal base for sowing seed. It is blended with Rolawn GroRight® Lawn Establishment Fertiliser to ensure a lawn gets off to the best possible start. Alternatively mix Rolawn Soil Improver into the soil to improve the structure and add nutrients.
To ensure your new lawn is fed correctly mix Rolawn GroRight® Lawn Establishment Fertiliser into the soil.
Firm the soil by lightly rolling or treading and rake to a level finish.
Sow the seed, preferably in a number of passes to achieve an even spread. Lightly rake the seed into the top 12-25mm of soil.
Firm down by treading or lightly rolling.
The seed bed must be kept moist. Water well, using a fine spray if necessary.
Start mowing when grass is 50-80mm high, then gradually trim down to 25mm as the lawn thickens up.
When seeding a new lawn, weeds need to be controlled and removed.
Seed rates for new lawns:
Rolawn Medallion® Premium Lawn Seed: 35g/m2
Rolawn Minster Pro® Ornamental Lawn Seed: 38g/m2