Rolawn Vegetable & Fruit Topsoil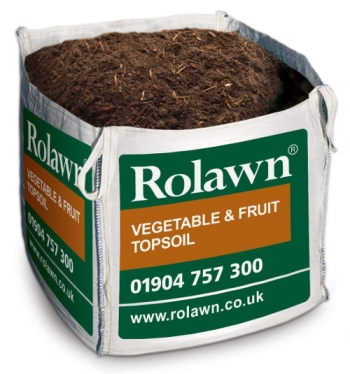 Safe, rich in organic matter, friable and consistent, Rolawn Vegetable & Fruit Topsoil is screened and peat free. Bag size approx. 1m³ when packed.
£132.00
Rolawn Vegetable & Fruit Topsoil is a slightly heavier fertile, peat-free, friable topsoil which is blended with additional organic matter to ensure consistent growing results. It is suitable for a wide range of crops in any planting format. It does not contain manures which can be variable and in some instances, potentially harmful. It is tested in accordance with the revised British Standard, which includes suitability for growing edible crops.

Exceptional value - a bulk bag contains up to 50% more product than 1 tonne of ordinary topsoil.

Bag Size: approx. 1m³
Coverage: Up to 20m² at a depth of 50mm
Typically classed as a 'Sandy Loam'
Contains soil conditioners
Mix of topsoil and soil conditioners to suit a variety of vegetables and fruit
Screened to 20mm
Peat free
Safe
Analysed to BS3882:2015 as suitable for residential home grown use
Friable - even in wet conditions
Minimal stone content
Organic content typically 6%
Convenient bulk bags minimise waste and mess and are easy to store
For certain crops such as tomatoes and courgettes, which require a higher nitrogen supply, levels should be supplemented by the grower.